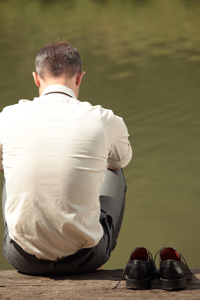 Divorce Coaching is more than just help coping with the emotions behind your divorce.  It's also a helping hand as you deal with the hurdles of divorce, accountability as you adapt to life as a single person, an anonymous way to share your feelings and struggles, and help as you start your new life.
If necessary, I collaborate on their behalf with their divorce attorney.  I also coach couples and individuals who are contemplating divorce and aide those currently going through the process as well those who have been divorced, but have yet to recover from it.
Divorce Coaching Helps You Through Your Divorce — The Legal Mess, The Emotional Strain, and The Hopeful Recovery
The issues I have identified in divorce coaching are as follows:
Managing the early emotions of divorce.
Moving towards acceptance of divorce.
Processing the grief and loss.
Understanding the grief cycle.
Forgiveness and letting go.
Building a new life.
New beginnings and the 5 keys to starting over.
Barriers to new relationships.
Finding new relationships.
Living successfully in blended families.
Are you in the process of Divorce? Do you have a relationship that isn't working, or that you want to improve and work on? Is your marriage in trouble, and is there still hope of reconciliation? Or do you need to end an unhealthy relationship? If you answered yes to any of these, I can help you as a Divorce Coach. You can call Dr. Mike at 303.456.0555 if you have any questions.