The Seven Sins of Marital Discourse (Conclusion) By Dr. Michael Brooks
In conclusion on my list of Seven Sins of Marital Discourse, many have to ask themselves "have I given up on the marriage" mentality. If you're in a hopeless marriage, you need to ask yourself several questions. Have I given it my all? Have you sought counseling, coaching advice? Have you talked to your Pastor, Priest or Rabbi about your marriage problems? Many marriages can be saved, although, with a lot of hard work, it can be done.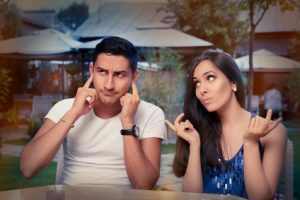 Ending your marriage is the last step for many individuals, it takes a lot of thought, lots of counseling and grit to get through the process. It's not easy for sure. There is heartbreak, regrets, shoulda, woulda, coulda, what if's that will race through your mind. If you're divorcing because of an affair, I would take a deep hard look at that. Especially if children are involved. Running away from your bad marriage without getting help will haunt you probably for a lifetime. I see many people that look back and wonder why they divorced their spouse. They beat themselves up for breaking up the family.
Case in point, a client of mine several years back had the life of luxury, the big house, fancy car, big bank account, and a husband that did very well in his job. They had two children and were very connected socially. She had it all. Then a young man caught her fancy, and she started fooling around on her husband. I saw the damage that this did to my clients family. The kids were totally screwed up from an absent mother and a single dad. She moved out with this man and never looked back. I saw her a few years later with a different guy. We spoke briefly, and I'll never forget her words, I wish I never cheated on my husband, I had everything a wife, mother, and woman could want. I lost everything she said. Once the trust is gone, it's hard to recover that. Keep trust in your relationship by being open with each other.
In closing, it's best to recognize the struggles you face and face them head-on, don't avoid them. So many couples need help, and it's ok to ask for counseling. I often wonder how many marriages could be saved, if they both agreed to get help?
Do you feel frustrated about your failing marriage or relationship? Do you need help in saving your marriage and family from divorce? Do you have a spouse or partner who isn't communicating with you and you want it restored? Do you want help in learning good communication skills? Are you the partner who wants to end your relationship because it's unhealthy? If you answered yes to any of these questions, you need to contact Dr. Mike and set up an appointment. Please call Dr. Mike at 303.880.9878. If you need help.
Dr. Michael Brooks is the founder of Applicable Counseling and life coaching Services. It is affordable, accessible, anonymous and available by appointment from the privacy of your home. To avoid travel time and the comfort of home, many clients prefer to meet with Dr. Mike over the phone or via Skype (if you want to Skype with Dr. Mike send him an email at mbrooks3353@gmail.com to set up an appointment). The convenience of this type of Counseling/Coaching is the most effective means of Life Coaching for those who live outside of Colorado. Give Dr. Mike a call! You'll be glad you did!